Three years ago, I found myself sitting next to Rob Harr at a conference speaker's dinner. (You know Rob? Nice guy.) We got to talking about our families and businesses and I accidentally mentioned that I was running Plucky part time.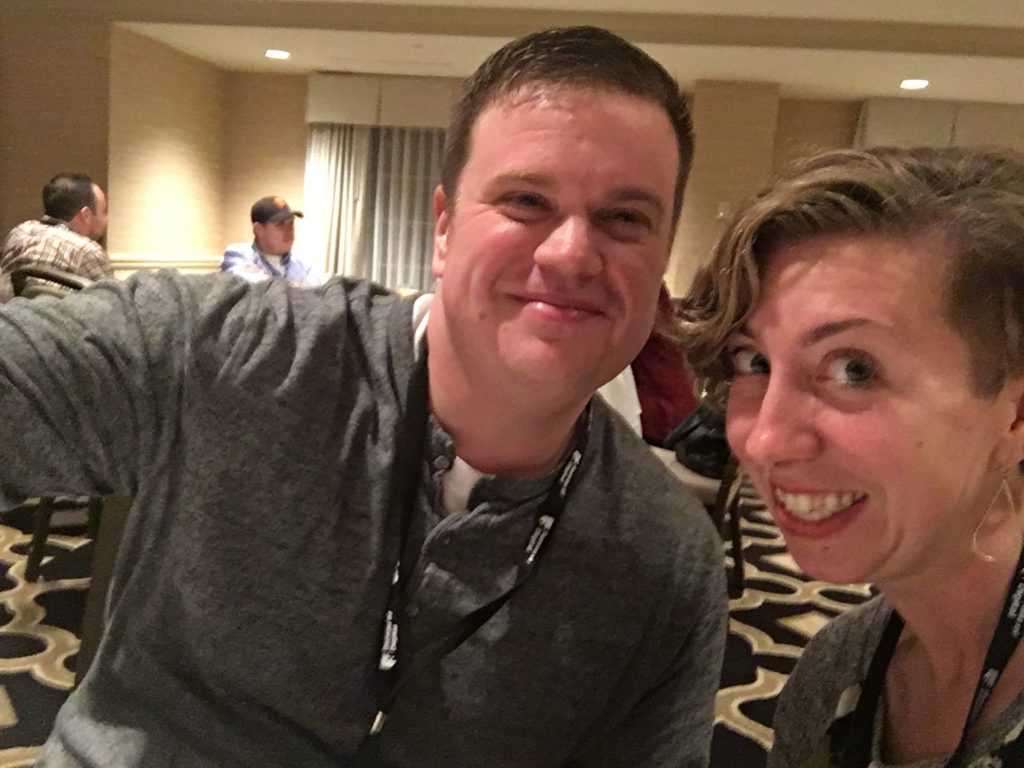 "Wait. Plucky is part time?" he asked.
"Yeah… I work 3 days a week. Home with the kids the other two."
CUE: ME SWALLOWING MASSIVE FEAR, REALIZING I HAD LET MY HUGE SECRET SLIP, SURE THAT HE WAS ABOUT TO GRAB A MEGAPHONE AND ANNOUNCE MY PART-TIME BUSINESS STATUS TO THE ROOM, AFTER WHICH I WOULD BE SHAMED AND DISINVITED TO SPEAK AT SAID CONFERENCE BECAUSE I WAS SO NOT LEGIT.
I took a swig of wine and prepared to pack up my things.
"People need to hear about that," Rob said. "Plucky is amazing! I can't believe this. My wife needs to hear about this! Moms need to know there's a way to make that work!"
With this reaction, Rob (unknowingly) transformed my Achilles Heel into my Achilles Advantage, a concept that I sketched out during my long plane ride home. I now teach this idea in workshops and to some of my coaching clients, the truth that The Thing You Assumed Would Damn Your Ship is actually The Thing That Will Save You.
Props, Rob.

Plucky's Achilles Advantage: slow growth
When you get married, people ask when you'll have a baby. When you start a business, they want to know when you plan to hire. The canonical answer to "how's your business doing?" apparently comes down to how many people's mortgages you're supporting.
But by starting Plucky when my first son was 11 months old, parenting and businessing could never be separated and supporting even MORE people sounded terrible. I was always juggling my kid with my business – and trying to hide it. I worried everyone would assume that Plucky was a cute side hobby, that the lack of working hours negated my passion and drive.
During Plucky's first year, we moved from Brooklyn to Berkeley and new daycare only had 2 days/week; for a while, I went down from 3 to 2 days of work.
During Plucky's second year, I had another baby; Plucky went down to 0 days/week for a few months so I could take maternity leave.
During Plucky's third year, I was diagnosed with a brain tumor. Plucky closed for 6 months while I had brain surgery and mentally/physically recovered.
Then came three years of reliable 3-day/week work as my health and our daycare options stabilized. I coached, I taught workshops… and I volunteered for Monday morning reading in my older son's Kindergarten classroom. Some kind of balance was achieved.
Then in January of this year, I put our younger boy in preschool 5 days/week. For the first time EVER, my kids were out of the house during the whole work week. It was… how can I put this… a GLORIOUS 8 WEEKS. Then Covid hit.
And so it has been that Plucky's seventh year survived a massive reduction in my hours, focus and professional fulfillment. At the moment I work 12ish hours a week, a combination of early-morning and late-afternoon hours; outside of that, I'm the distance learning teacher for both our boys. I plan all virtual So Now You're a Manager trainings around my husband's availability so that someone is watching the kids.
I could cry with frustration, just typing this all out – and yet Plucky's elasticity (nurtured by our slow growth) has been the secret to keeping the business afloat this year. Schedules haven't been pretty and sanity is long-gone but the need for scaling back isn't unfamiliar.
#Mom/CEOcombo
When the New York Times published an article recently saying that women's careers are going to be scarred now that they're taking time to homeschool their kids, I wanted to write a counterpoint that said YEAH TRUE UNLESS THEY START THEIR OWN BUSINESSES. Entrepreneurship is not the solution for everyone AND I acknowledge the privilege available to me as a white woman with a full-time working partner. That said, I believe that running a small business can be a good option for more people and I swear I could name an authentic business idea for every woman I know. Instead of telling us we're subject to the whims of the careers that already exist, LET'S EMPOWER MAKING NEW ONES.
I am backwards-grateful for my years of training in how to make a business work on rare minutes. And though I've gradually gotten more public about my motherhood/Plucky combo journey, I'm intentionally including it in this yearly write-up because, MOMS? IT IS POSSIBLE.
You can wait to be promoted, hope your manager doesn't let Covid affect your path OR you can start your own shit and hack your way through founder life. (Secret truth: hacking is what all the guy founders are doing, anyway. You're just as smart.)
Email me if you want to talk about this. I would be more than happy to organize a Zoom for moms whose careers have been affected by Covid/homeschooling and are noodling about starting a business. I promise you that you have all the potential required; the world is aching for lady leaders.
Year 8
Truly, it feels like the thing Plucky nailed last year was expanding our team. We are training up a variety of coaches and it's beautiful to watch our coaching reach expand. This will continue in Year 8. (Check out our coaches if you're looking for thoughtful help.)
We'll also continue virtual So Now You're a Manager trainings. My hope is that we'll be able to offer at least one in-person event too – but regardless of format, we will graduate our 20th cohort of managers by the end of 2021. *PINCH. ME.*
Plucky's New HomeSchool Product
And now! I'm so excited to announce our unique homeschooling curriculum!
JUST KIDDING ARE YOU BONKERS GET ME OUT OF THIS HOMESCHOOLING HELL ASAP.
Some days I daydream about the fact that ONE DAY I'm going to have 40 effing hours a week. And if you think this business is moderately impressive 7 years in?
Wait. Til. I. Can. Plan. Beyond. Snacktime.
Ladies, we can do this. Let's blow up the career options they offered us, let's blow through the world as it was built. It's falling apart anyway.
Time for new architects.
xo Jen
P.S. Here's our monthly newsletter. Sign up if you want to.