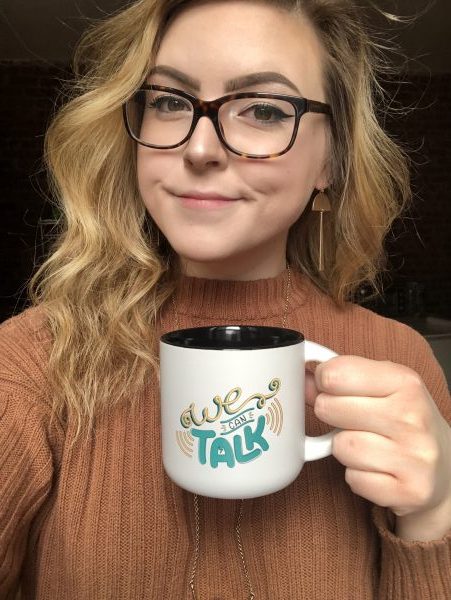 Today we're sharing the perspective of Joanna Bugenis, the graphic designer we worked with to make the We Can Talk merch. Joanna lives in NYC and collaborated with us to bring We Can Talk to life.
What was appealing to you about designing the We Can Talk merch?
Having the opportunity to design the "We Can Talk" merch was appealing to me because I really loved the message the phrase stood for, but more importantly, I really loved Jen's passion for it, her company, and the people that she works to help in and out of the office.
I always admire people who are passionate in what they do, and whenever I get a chance to work with and talk to someone with that energy, it always results in work that is exciting and engaging!
What were the important elements in building this design?
I wanted to create a design that felt fun and bubbly; something that could be put on the wall as a conversation starter and an invitation, but also something that you would actually want to keep at your desk or somewhere in your office. I wanted all the elements in the design to reflect that. From "we" popping out and contrasting the rest of the phrase to emphasize its unity, to the rounded sound sound waves surrounding "talk" to symbolize the open conversation, everything serves its own purpose.
Talk to us about colors! How did you choose them? What's interesting about them?
Just like the design itself, I wanted the colours to be lively and fun, and to be able to contrast everything else surrounding it to grab immediate attention. I decided on a light teal/green as the main colour because it's neutral and eye popping. The warmer yellows and reds in "we" and the sound waves are used to complement the teal and pop against it.
The colours all come together almost to form a unity, which further conveys the message behind the phrase.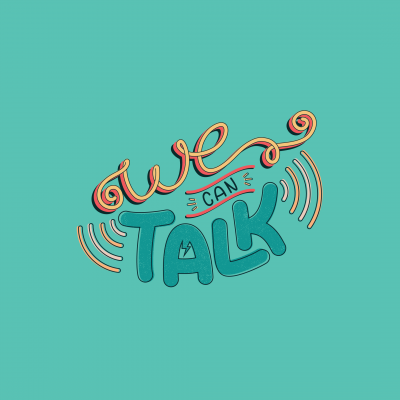 What was fun/different about designing something that would be put on physical products? How did it change your process?
Designing for a physical product was something I personally have never really explored, so it was a fun learning experience for me! Knowing what I was designing for changed the way about how I thought about the layout and spacing, because I knew that it would have to be able to work well on not only the flat surfaces of prints and bags, but it would also have to be legible and fun on a rounded surface like on the mugs. The process also made me realize and understand the cost that comes with adding more elements and colours to designs, and forced me to work to simplify and restrict the colour palette for different products.
Why is We Can Talk an important message for us to be hearing these days?
The phrase "Can we talk?" is always such a stressful question to be asked, no matter what scenario you're placed in, but especially at work. You nearly always jump to the worst possible conclusion that you did something wrong or that you're being punished in some way when it's almost always opposite the case, and it can often create a rift in communication between manager and employee.
Simply by swapping those two words to form the phrase "We can talk" however, opens up that dialogue. It tells you that you are not about to be talked down to, you're going to be listened to. It strips the conversation of all the guilt, the anxiety, and the worry, and makes it one where you can truly learn and have an open and honest conversation, which is so important to feel comfortable and happy and productive in your position, and to have a better relationship with your peers and your manager!
——————
Thanks for the amazing work, Joanna.
Want to buy something from the We Can Talk line? Buy your favorite piece here.