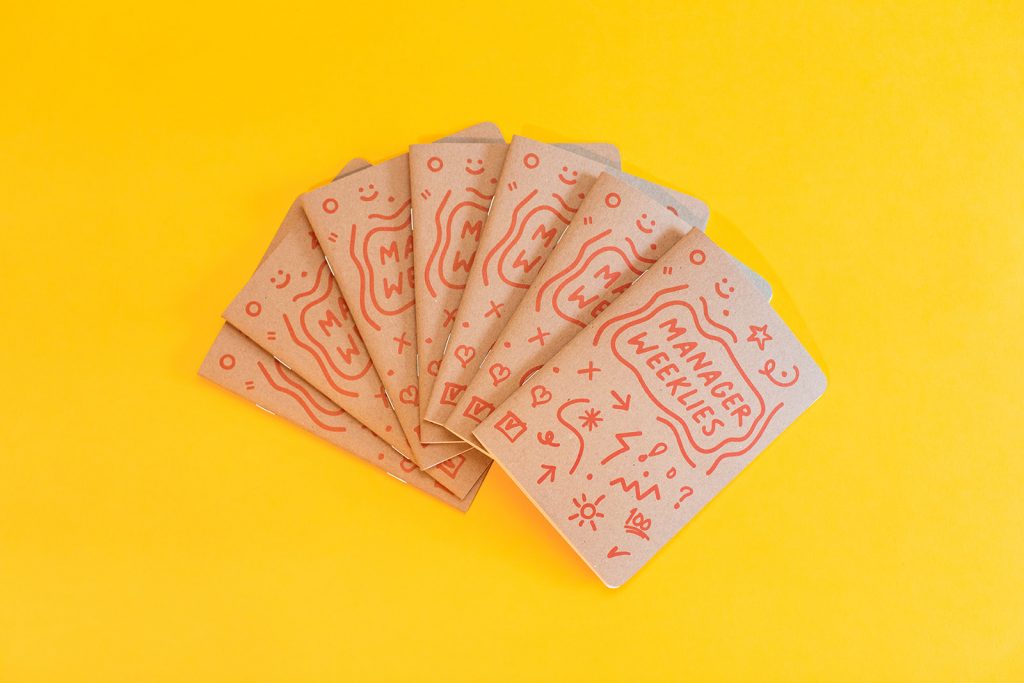 So you bought a pack of Manager Weeklies – PROPS TO YOU for trying something new. Here are a few tips for setting up your first week!
Put yourself in a situation where you can hear yourself think.
I like to set up my weeks on Sunday afternoons in my office but you should choose the time and place the works for you.
Be honest about your priorities.
In Manager Weeklies, you only get four priorities for the week. As a working mom, a couple of my priorities are inevitably kid-related. But this helps me cut through an overwhelming to-do list and feel confident that NO MATTER WHAT, these are the four things that matter this week.
Let obstacles dictate your work early in the week.
If I'm blocking important things on a Monday, I try to jump on it and move things forward ASAP. If I'm blocked by someone else, a quick email nudge helps. Start moving obstacles as early as you can – you know some tasks take a while to gain traction!
Choose a relevant 1:1 topic.
If you have Plucky 1:1 cards, you can pull one and copy it down. But if there are other relevant realities happening (i.e. pandemic check-ins, a shaken team after a re-org, a local natural disaster affecting team members), jot that down to center your 1:1s this week. Be mindful of what topic would benefit your team members in the ever-changing landscape of 2021.
Lean hard into asking for help.
It's funny; I'm the person who MADE Manager Weeklies and I'm still surprised by this prompt every week. "Someone I can ask for help"? I think. Oh yeah! I'm allowed to do that! Some weeks it's my therapist's name, sometimes it's a team member or neighbor. Vary your support channels.
Repeat thyself.
The prompt about something you have to say (yet) again is based on that funny anecdote that people hear you for the first time when you've said it for the SEVENTH time. Ha! Tell everyone to (yet) again turn in their performance reviews. Run it back; you're a leader.
Capture incremental ideas.
We're good at tiny to-do items AND we're good at setting annual goals but what about the medium term? Use the "Ideas to Move Forward" space to capture little ideas as see things that can improve. My pages are filled with new product ideas, courses I'd like to teach and holiday gift ideas. It's helpful to page through this gold mine every so often!
Judge the week.
At the end of the week, circle one of the emojis that best captures how it went. The emojis are different in the red and purple notebooks to help shake things up each quarter. When I showed my dad the Manager Weeklies, he asked what the heck a pizza week would be. Aww! You have to live a pizza week to know a pizza week, dad.
And finally…
Only fill out the sections that you need. I give you full permission to use the hell out of your Manager Weeklies in whatever way is useful to you.
Deep breath, pens ready, it's time to set up a new week. You got this.